The concept of our project 5G Emporium is developed for the convenient and best prime location for our valued customers. Our vision for the project was to create a monument of excellence for our investors that in the future entails an investment with a high standard of living and developing businesses in their respective industries.
With our Roman Colosseum design and prime location, we are bound to have a high flow of public for business and recreational facilities and to top it off connecting Metro Bus Station, Airport, and Motorway (M1 and M2) at the nearest distance. Thus, Planning, Organizing, and Implementation all came into our expected vision.
In 2015, in the light of sunnah, Chairman Mr. Muhammad Usman Khan, CEO Mr. Umair Ilyas and M.D. Mr. Umair Zai (5G Group of Companies) had the vision to change the conventional real estate landscape. They wanted to bring emerging technologies to the real estate business, and modernize them for sales and marketing. They wanted to provide job opportunities for the youth, encourage a vision to manifest the true social good, and change the face of real estate for the better. They started with limited resources, but they never stopped believing in their vision. Thanks to their hard work, determination, and innovation, they were able to win the real estate sector and change the face of the conventional property and real estate business. Their innovative approach changed the way people viewed real estate, and they are still changing it today.
Concurring to the current trends we are a company of more than 400 employees and branches & franchises in Peshawar, Islamabad, Lahore, Sialkot and Hairpur in Pakistan. It does not limit us at this point. We are still changing with the time and facing new challenges and developing an innovative approach for our ever-changing global needs to local solutions.
Chairman 5G Group of Companies
Pakistan is one of the blessed corners of the world that has numerous resources and fertile land for agriculture. It has human resources that far exceeds my expectation for the development of the country. Out of which the cream youth have been selected for the growth of 5G Company as a whole.
It's firm in its commitment to delivering quality with better investments for our patrons and investors. We at 5G make it possible to look into hidden investment opportunities and unravel them for the investors. In time, we grow with our investors and clients. One of the ideal and limited hidden investment gems in our Limited one-of-a-kind prime location that brings business, investment, & families and Connects them with style, standards & luxury. I like to present the 5G Emporium, one of our best prime locations available.
Chairman,
5G Group of Companies
Mr. M. Usman Khan
CEO 5G Group of Companies
In my humble opinion, I believe that the potential to tap the core into the Pakistan market is just the beginning. With various landscapes to select and countless prime locations to explore. The main concern for us is to provide prime land for our investors to prosper what was expected from us and even go beyond. It's in our nature that we research, and acknowledge the current trends and changes to find the best way to maximum investment.
I believe it was and is the right time to introduce the 5G Emporium to the world, the location is impeccable and located in the Top City-1, at the main entrance. This means we are making sure the potential investors and commercial owners are getting the maximum inflow of customers. With that, I like to invite you to visit the site and see it to believe it.
C.E.O,
5G Group of Companies
Mr. Umair Ilyas
MD 5G Group of Companies
It is with great pleasure to introduce one of our developed projects, "5G EMPORIUM". The current market is volatile and the market itself is unprecedented with limited options of success, out of which our decision is true to the core for our strategy to choosing the best possible location with maximum revenue generated for our valued clients.
The project is not only going to be the best choice for commercial purposes but also luxury residential purposes. In simple words, I will term it as 'Rebranded Living Style'.
Emporium is not just a standard but a luxury standard for residential and commercial clients.
Managing Director,
5G Group of Companies,
Mr. Umair Zai
MD 5G Marketing Pvt. Ltd.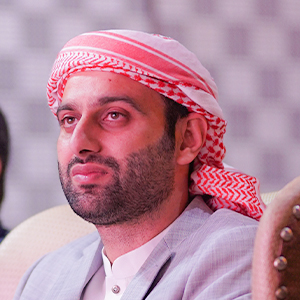 The best part of 5G is the learning curve, the market research and network are impeccable. That automatically generates an infusion of more concrete verified information for making the investment not just grow but multiply.
Our research done by experts is our core strength for obtaining the amazing opportunities that lead our intuitive work to bloom.
With that bloomed the idea of 5G Emporium came into being and it is safe to say that our maximum level of proficiency will lie in delivering the project on time and in time for our valued investors.
Managing Director,
5G Marketing,
Mr. Bilal Gul
We're always happy to help! Please fill out the information to schedule a slot for your booking preferences and availability.